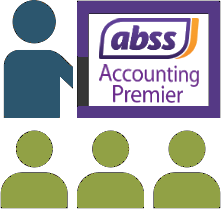 ABSS Accounting/Premier Basic training
Course description:
If you're an ABSS Desktop Software user who wants to make sure your business files are set up correctly for the most efficient use possible, then this course is just what you're looking for.
Whether you're setting up to get started or are already working with existing company files, you'll learn the right way to set up all the relevant accounts, tax codes and card files
Course Outline
Day 1
Getting Started with ABSS Accounting
To enable participants to get started and begin using ABSS Accounting by setting up the following:
Introduction: Basic Accounting Terminology
Overview of ABSS Accounting
ABSS Navigation Tools
Create new data files
Setup Accounts List and opening balances
Setup card files – customer, supplier, employee and personal cards
Setup Sales details and assign customers opening balances
Setup Purchases details and assign suppliers opening balances
Initial Bank Reconciliation
Generate reports that relate to opening balances
System Maintenance: Back up & restore
Day 2
Day-To-Day Processing
To enable participants to acquire working knowledge of the essential business processes using ABSS Accounting, which covers the following:
Recording Journal Entries
Banking Processing
Sales Management
Purchases Management
Reports - generate and print
Preference & Security settings
Prerequisites
Microsoft Windows experience and basic accounting knowledge is an advantage
---
Terms & Conditions
Bookings for an ABSS training course can only be processed upon receipt of full payment of the course fee along with proof of payment. These have to be emailed 3 working days prior to training date
Training availability is based on maximum occupancy of 12 pax per class
Availability of seats are on first come first served upon receipt of full payment and training registration form
Rescheduling is not allowed. If registered trainee is unable to attend, a replacement must be sent
Request for refund for any absence or non-attendance for a confirmed training date will not be entertained
ABSS reserves the right at its sole discretion to reschedule or cancel any particular course if needed without prior notice.
In the event that a specific course is cancelled then participants enrolled in that course will be transferred to the next available course and will be notified of the change.